Power for Today
Please join us Monday October 17, 2022 for the first of eight weekly presentations beginning with these topics.
Oct 17:                  Trust the Bible
Oct 24:                 Bible Prophecy
Oct 31:                  Why Suffering?
Nov 7:                 Why Jesus?
Nov 14:                 Salvation
Nov 21:                 Sabbath
Nov 28:                 Change of the Sabbath?
Join Pastor Ian Bramble as he discusses and shares insights on these timely subjects.
Meetings begin at 7pm.
You may attend this free event in two ways:
    1)  In person - 303 Church Rd, Spruce Grove, AB
    2)  Via Zoom (use the QR code in the graphic below)
We look forward to your attendance and participation.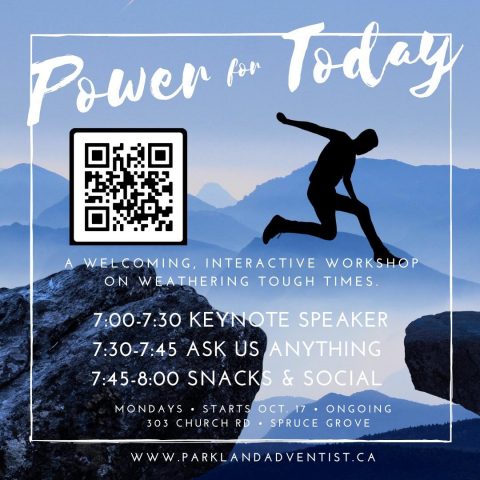 https://us06web.zoom.us/j/82686493887?pwd=eTJNM3hsbEdqOStkeVZWbTlBTFRGQT09#success